Don't Try To Change Your Significant Other
---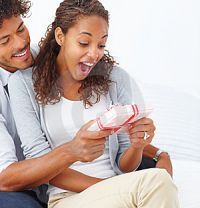 By IRavin
So you've found a man and you're done with the dating scene, what now? Well the hard work is far from over. In fact, it's all just begun. Take a look at two all too common scenarios.

Scenario 1: You first meet Jason in the library while in the midst of a three week marathon of final exams and papers. With such an intense amount of schoolwork, you don't have the chance to exercise as you normally do. So, you gain five pounds during these three stressful weeks. Once finished with finals, you begin spending most of your free time with Jason. Over the course of the next six months, your time with him involves dining out, plenty of Sunday brunches, preparing dinners at home, eating take-out while watching NetFlix, and so on. In short, you gain another 10 pounds. When you first started dating Jason, he mentioned he preferred women "with some meat on their bones" and ones who "enjoyed food." However, over the last couple weeks things have begun to change. Six months and three days after you first meet Jason, he asks you to meet him at Pinkberry in the early evening. When you arrive, he hands you an envelope.

"What's this?" you ask.
He smiles.
You open the envelope.
"It's a six month membership to Equinox," he says. "I thought you would love it babe."
Ouch.

You turn red. The adrenaline rushes through you faster than Danica Patrick on lap 499 of the Indianapolis 500. Meanwhile, the large Pinkberry chocolate frozen yogurt overloaded with white chocolate chips, granola, caramel and walnuts doesn't look quite so appetizing anymore.

Scenario 2: You've been dating Sean for six months. You meet Sean at happy hour on the Upper West Side. Initially, he doesn't wow you with his looks or his style. In fact, he wins you over with his brains and outlook on life despite wearing clothes that resembles that of your father. In short, Sean would prefer to wear ill-fitting khakis, a blue shirt, clunky brown shoes and a brown belt every day. In the spring and summer, he might upgrade to a blue, white or red polo shirt he purchased from Filene's Basement. When you first met Sean, you considered his fashion sense a bit quirky, yet endearing. For some reason, however, his style has begun to irritate you over the last couple of weeks. One afternoon, a few items catch your eye while browsing a trendy men's clothing store on West Broadway. Five hours later and over dinner with Sean, you present him with a large plastic bag.

"What's this?" he asks.
You smile.
He opens the bag.
"These are for you babe: skinny jeans, slacks and a few fitted dress shirts," you say.
He puts his fork down and looks at you.
"What are you trying to tell me?" he demands.

How To Spin It Into a Positive

I imagine situations similar to Scenarios 1 and 2 have surfaced at some point in many of our relationships. Things we overlook in the beginning of a relationship often become a point of contention in the later stages of the relationship. I certainly appreciate the desire to encourage someone to exercise more regularly or even dress more fashionably. Unfortunately, in the end, we can only change ourselves. Despite the good intentions, change will not begin and continue until we are on board. Perhaps it is better to engage our partners in a collective form of "couples behavioral change," to rephrase the desired change and to express the motivation behind the suggested change.

For instance, the gym membership suggestion from Jason would have been more effective if it came with a membership for both you and him. Ideally, the gym suggestion would also have included dialogue that expressed the desire for you and Jason to: exercise together; participate in fun activities that do not always involve food and drinks; live healthier lives; thus improving the quality of both of your lives.

Meanwhile the clothing suggestion from you to Sean would have been more effective if the suggestion had been expressed as a metaphor for alternative ways to express creativity.

While transparency and honesty are necessary in every relationship, it will be difficult to initiate change as a couple if the suggestions appear self-serving and one sided. By couching our suggestions for change in words that show a larger appreciation for life and a sincere care in the well-being of our partner, we create an environment more suitable for change.





Related Articles
Do You Have A Strong Marriage?
By IRavin
If you are married, we suggest you ask yourself the following questions to assess whether you have a strong marriage.